Many years ago, I was living and working in Tasmania on a number of research projects which saw me driving all over the State and getting to see the best that Tassie has to offer. I love the place.
Early on in my stint, I noticed as I drove up the Midland Highway, a number of old Eucalyptus trees standing alone in paddocks with sheets of tin wrapped around their bases looking a bit worse for wear. I mistakenly assumed the tin was placed on the trees to prevent cows from rubbing the bark off them. That was until I asked one particular farmer. He told me "the bloody possums are killing the trees." I was reliably informed that this was a common thought amongst a number of farmers in the district. Apparently someone saw a few possums in a tree and then a month or two later the tree was looking sick. The possums hadn't been seen there before and now the tree was sick. Logical? Yes. Correct? No.
The possibility that a few nectar slurping marsupials can kill a large gum tree through undetermined means does exist but the probability is close to zero. What is more likely is that these very old, remnant forest trees, now isolated and subject to a century or more of soil compaction, changed soil chemistry, nutrient deprivation and drought were simply pegging out. Any effect of possums likely negligible.
This sort of simple logic is what drives belief in "Wind Turbine Syndrome" or as I like to call it "NIMBY + fossil fuel funded misinformation syndrome". I wasn't going to do any more posts about this bullshit but sometimes the stupid burns so much I have to get it off my chest.
I have to thank Ketan for this retweet.
I couldn't resist. After all the other weird and whacky symptoms and effects attributed to wind turbines I've read about I couldn't resist one involving mustelids in Denmark. So I followed the link and before reading, did a quick scroll and was horrified to see this image…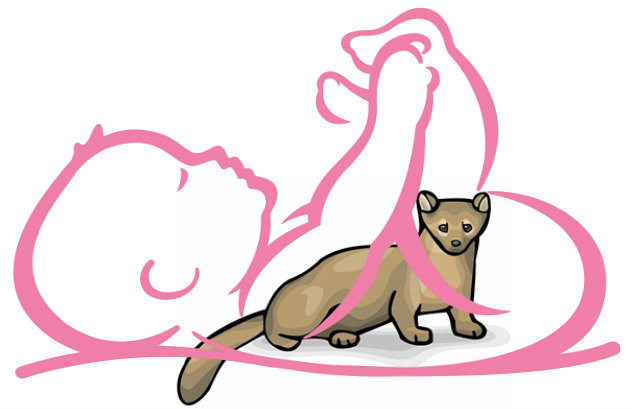 I thought "OH MY GOD!" Wind turbines are causing babies to be infested with ferrets! On reading though I was relieved that this wasn't happening. It was just the equally implausible idea that wind turbines were causing spontaneous abortions in minks on a mink farm in Denmark as well as causing the mustelids to attack and kill each other…allegedly.
I'm not going to bother explaining again that WTS has no basis in medical science and that infrasound is all around us (and produced by us) in levels greater than that caused by wind turbines. Feel free to search this blog for all that stuff. I'd like to look at a couple of other things…. like what could be the possible cause of the miscarriages and fighting in these rodents and the possible motivation for blaming wind turbines.
Something to note about this article is that it is very vague. It mentions veterinarians but does not provide any references to any official reports about the incident. The author does provide a link to a Danish blog that mentions the farmer and where his farm is and discusses his submission to a Danish parliamentary committee. The language in that article is very emotive and would appear to be written with a particular slant. It also doesn't cite any official veterinarian reports, merely mentions "veterinarians". The farmer himself, as reported, made claims that the politicians must all be deaf and in need of hearing aids and are "in the pocket" of the wind farm industry. On reading it I was given the impression of a crazy old farmer with NIMBY syndrome and an anti-green bent looking to blame someone for problems on his farm.
So, what could be the problem? Firstly, I'm not a mink expert, but just a little bit of reading the scientific literature reveals that minks are subject to a range of diseases and conditions including botulism, black leg,  septicemia, encephalitis, rabies, deafness, dwarfism, distemper, liver flukes and other parasites. Some of these diseases result in a range of abnormal behaviours including cannibalism and tailbiting. Of most interest though, is the possibility that these minks contracted Aleutian Disease. This disease is well documented (paywall) as causing spontaneous abortions in minks. Maybe that's it?
This paper discusses the disease in Denmark. The part that I find particularly interesting comes from the very first lines of the abstract.
In Denmark Aleutian mink disease (AMD) is a reportable disease with law enforced annual screening of all mink farms. Furthermore, all mink moved between farms have to be tested negative for AMD before moving. If more than 3 seropositive animals are found by counter current immune electrophoresis (CIEP), the farm is regarded as AMD infected according to the legislation.
That would be a real bummer for a mink farmer in Denmark with a dislike of politicians. How much easier to blame those awful wind turbines? Just saying.
So what about the Wind Turbine Syndrome blog? It has Nina Pierpont listed on its header. She is a medical doctor  who is the architect of "Wind Turbine Syndrome", which has no basis in medical science. As far as I can tell Pierpont has never published a medical or scientific paper on any subject.
The contact details for the blog are for someone from the World Council for Nature. While on the surface, many of their "concerns" seem noble, I find it odd that they claim to be all about protecting the natural environment but don't see fit to mention climate change. It is the elephant in the room when it comes to ecology and the environment. They do however not like any forms of renewable energy. On the surface it is a very very strange ideological position to take. Perhaps they are one of these strange "God's will" mobs? I don't know.
But back to the article in question. It relies heavily on references from the Waubra Foundation. Sourcewatch has a comprehensive discussion about them and I urge you to read it all. I will sum it up though. They don't live anywhere near Waubra, spread misinformation about wind power, actively lobby against it in Australia, are funded by fossil fuel interests and have very close associations with conservative politicians and a far right-wing fossil fuel funded "thinktank". Can anyone say "vested interests"?
In conclusion, what we have here is……well….I'll leave it to my readers to decide.